SMART TABLE

The Smart Table Coin-Op Shown in Rosewood Dymondwood® with Tournament Blue Simonis 860 Cloth.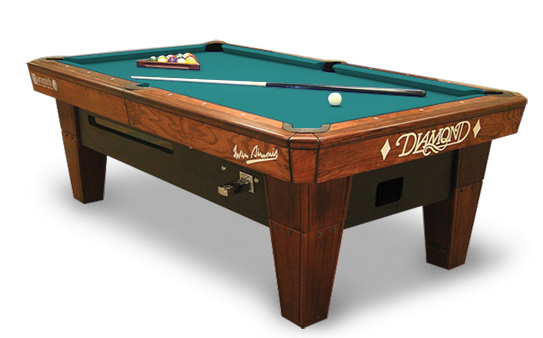 DIAMOND BILLIARD PRODUCTS INC. is pleased to present our newest gaming creation, the coin-operated DIAMOND SMART TABLE™. We want all vendors/operators to see and experience the action and revenue of this NEW pool table. The DIAMOND SMART TABLE™ is superior in terms of quality, construction, and materials. Most importantly, it's the only coin-operated table in the world that utilizes a REAL CUE BALL with state-of-the-art technology!

DIAMOND is introducing the SMART TABLE™ to locations around the world. Our table enhances bars, game rooms, billiard halls, and official tournaments. The DIAMOND SMART TABLE™ is the highest quality coin-operated pool table, incorporating all the same features and playability of our DIAMOND PROFESSIONAL model.

If you are looking for a coin-operated pool table that outperforms all the others, look no further, the DIAMOND SMART TABLE™ is unmatched in every aspect. The combination of an attractive look and unsurpassed playability is the reason that DIAMOND SMART TABLES™ have quickly become the player's choice.

Patented optical density sensor built into the ball return system. Allows the player to use Super Aramith Pro Balls® with the red circle cue ball. No longer do the amateurs have to play with an oversized or magnetic cue ball.

Dymondwood® Options
Select hardwood veneers are impregnated with advanced dyes and resins through our state-of-the-art processes. The result: rich colors and optimum strength and durability that allows precise and efficient crafting. This beautiful, highly engineered material provides endless possibilities for fine, high quality products.






DymondWood® is burn and dent resistant!
Massive 7" rail construction utilizing six pieces of solid Oak or Ash hardwood butcher-blocked together. One piece of poplar is used in the front portion of rail. This construction prevents warping.
Poplar wood is used in the front of the rail to glue the cushion rubber directly to the sub-rail. Poplar accepts staples easier than other wood types, when covering cushions with cloth. ¼" feather strip channel is cut into the top of rail for securing cloth over the top side of the cushion then stapled to the bottom side of the poplar wood.
Burn and dent resistant Dymondwood – (5/8" thickness) is glued on the top and side of the butcher-block rail system for extreme durability. K-55 profile cushions are "glued" (not bolted) directly to the rail system for consistent rebound and optimum playability.
Simonis Cloth Colors
Available in Black, Marine Blue, Electric Blue, Tournament Blue, Powder Blue, Grey, Spruce, Dark Green, Simonis Green, Blue Green, Olive, Camel, Gold, Wine, Burgundy or Red.


New and Tournament Played Pro-Am Table Pricing
Call 812-288-7665 for or multiple table discounts with or without matching light units and special pricing on Tournamanet Used commerical tables (when available).