Quality Features of Simonis cloth
Simonis cloth enhances your enjoyment of your game by allowing you to play your best.www.simoniscloth.com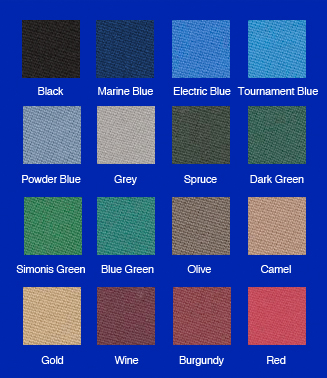 Simonis cloth looks, feels and wears differently than any other billiard cloth
Why Simonis cloth? Simonis is the truest playing cloth. This means that it will provide the best play possible on any table. The balls do not touch the slate or the rubber, they only touch the cloth, therefore the cloth is one of the most functional aspects of the table and of the game.
Simonis offered the first worsted cloth for billiards
Why worsted cloth? Worsted construction means that there are no short fibers that can release from the cloth to form "pills" or fuzz-balls that have to be removed from the playfield in order to allow the ball to roll straight.
Simonis cloth is smooth and true
Simonis Cloth starts with very fine combed wool yarn. This long-fiber wool is then tightly-twisted and woven (the worsted wool process) into cloth. Then it is specially sheared perfectly flat and finally finished in a tradition of craftsmanship that our mill in Verviers, Belgium, pioneered and has refined for over three centuries. The result is a beautiful precision cloth that achieves the smoothest, most accurate and most consistent play surface available.


Simonis cloth is incredibly smooth without felt-like fuzziness and Simonis does not wear like nappy woolen cloth which eventually develops tracks or grooves in the cloth, all the while shedding short fibers that constantly need to be removed. With Simonis, ball spin is consistent, and the roll stays straight and true on every shot.
Why choose the Simonis Tournament Blue color?
The most favored consumer color preference universally is blue.
As a shade of the sky, the sea, and one of the colors of the flag, blue symbolizes security.
Blue steadies the emotions.
Higher energies such as communication and creativity are enhanced under blue light.
Word associations with blue: calm, tranquil, constancy, patience, and perseverance.
Personality descriptors relating to blue: dignified, poised, rational, relaxed, and balanced.
The most commonly used color of chalk is blue; therefore, chalk doesn't mark this cloth
as much.
Tournament Blue Simonis 860 is designed for MAXIMUM contrast; making it easier to
see the balls.
Tournament Blue Simonis 860 is designed for MINIMUM eye-fatigue; allowing you to
play longer.
Tournament Blue Simonis 860 is designed to be the best color under bright filming lights
of televised tournaments.
Tournament Blue Simonis 860 is now available. Let your league operator, bar owner and favorite poolhall owner know.